Aspire BVC Coils 5pk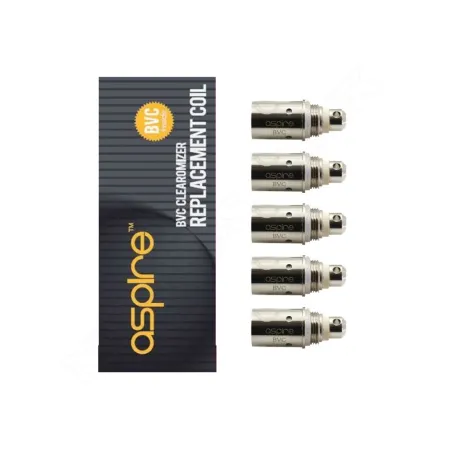  
Pack of 5 replacement Aspire BVC Coils
Compatible with the K1 Stealth Kit, Aspire K1 Atomiser, K2 and other Aspire Atomisers using the BDC technology
Coil Specifications
Genuine Aspire Product
5 Coils per pack
Coil Options
1.6Ω (3.0-4.2 V)
1.8Ω (4.2-5.0 V)
Description
The Aspire General Replacement BVC Coil 5 Pack is a pack of five BVC (abbreviation for the Bottom Vertical Coil) replacement coils for the Aspire K1 Clearomiser, K2 and other Aspire clearomisers using the BDC (Bottom Dual Coil) technology. These include ET, ET-S, CE5 and CE5-S models.
The BVC coils are an improved version of the BDC technology for a longer lasting vape and the best taste of your favourite E-Liquid. To suit individual preferences, the BVC replacement coils are available in resistances: 1.6 ohm & 1.8 ohm
Genuine Aspire Coils

Contains 5 Coils

1.6

Ω (3.0 - 4.2v)

or 1.8Ω (4.2v - 5.0v)

Please Note: These BVC coils are not compatible with the Nautilus and Nautilus Mini tanks.
Delivery
All orders are normally shipped on the same business day of order, providing the item is in stock and the order was placed before 3pm. Orders placed after 3pm may be shipped out on the next working day. Postage and handling costs are dependent on the service chosen.
---
Royal Mail / Courier
FREE
All orders with a value of £40 or more
---
Royal Mail 1st Class
£2.99
Only available for orders up to £40
---
Courier
£6.99
Next Working Day
---
Please note: We are closed on Sundays, therefore any orders placed after Saturday 2pm will be shipped out on Monday
Coil help
Fitting your replacement coil.
Turn off your ecigarette (This is to avoid accidentaly pressing the power button)
remove the coil from the tank as per the tanks instructions
insert the new coil into the tank and ensure it is tight in place
re-assemble the tank
fill with e-liquid up to the max line
let the liquid soak into the coil for around 10 minutes or more -

important!
You may want to try putting a few drops of e-liquid inside your coil before fitting it into the tank. This can speed up the priming process from the inside of the coil to help avoiding burning your new coil.
Make sure you do not put too much liquid inside the coil of you could end up flooding the coil.
Reviews
Reviews
No customer reviews for the moment.
16 other products in the same category: